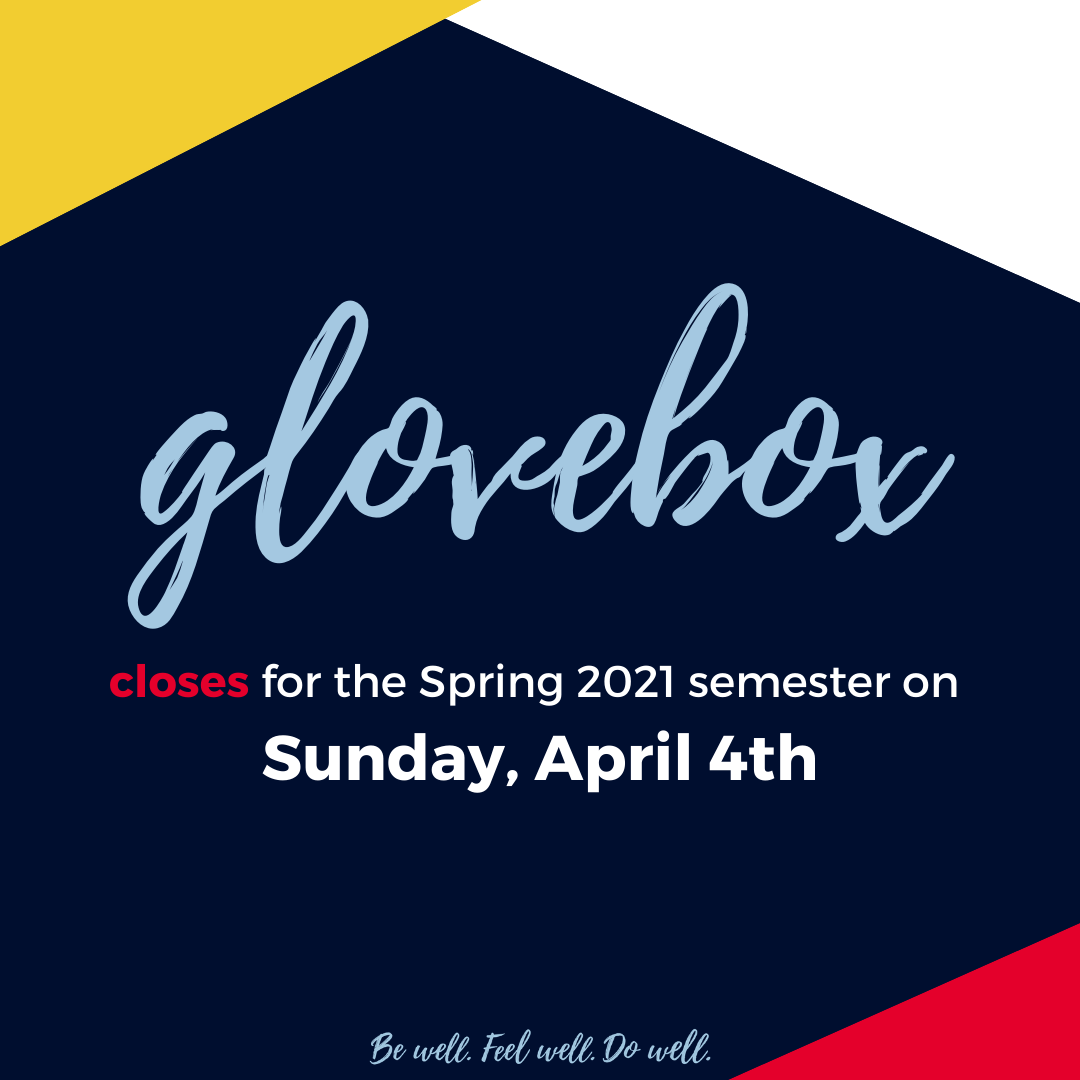 Update Spring 2021:
Thank you for using gloveBOX! Our order form is now open and will close on Sunday, April 4th. Our last order for the semester will go out on Tuesday, April 6th.
Frequently Asked Questions (FAQ)
General Questions
What is gloveBOX?
gloveBOX is Student Health and Wellness' safer-sex supply delivery service. Students can order safer-sex supplies, including condoms, lubrication, and dental dams, to have delivered directly to their mailroom. Students can choose from 4 different boxes, up to 3 times a semester.
Does gloveBOX cost anything?
gloveBOX is FREE!
Students may order 3 boxes a semester, for a total of over 60 free condoms and other supplies. Based on the price of a typical 3-pack of Trojans selling for $7.00 at CVS – that's over $140.00 worth of safer-sex supplies. And, that's over 60 times you'll know that you and your partner(s) are protected from sexually transmitted infections (STIs) and/or unintended pregnancies.
Can you mail my box off-campus?
Our boxes get sent out using campus Mail Services rather than the U.S. Postal Service. This means our shipping is free, but it also means that we can't send boxes off-campus, or to apartments like Mansfield Apartments or Northwood Apartments that can't receive mail from campus Mail Services. However, our office has partnered with OCCSS and off-campus apartments to host periodic "Condom Blitz" events for off-campus students, where students can get supplies in a socially-distanced way - so keep an eye out for up-coming events this semester.
Can I send gloveBOX to a friend?
If you'd like to share or "gift" gloveBOX to a friend, we recommend either sharing the link with them so they can order their own, or ordering a box for yourself, and giving it to them separately. We ask that you do not send supplies to someone without them knowing, or as a "joke" (this is included in our Terms of Service agreement you fill out at the end of your order). We value consent, and that includes only sending people supplies that are expecting them.
As a reminder, Mail Services will not deliver any boxes that have un-matching names and addresses.
Why can't I customize my box anymore?
Each and every gloveBOX is hand-packed by one of our student workers. Customizable boxes take more time and resources that have been impacted by COVID-19. In the meantime, our goal is to still provide a certain level of customization by offering a variety of different boxes students can choose from (see below for descriptions). We hope to bring back the customization option soon!
Why do I have to order in advance?
Because of the pandemic, we (and many other departments) have had to readjust how we operate. Currently, Mail Services picks up mail from us once a week on Tuesday mornings. So, if you place your order on Tuesday night, it will not ship out until the following week. It also takes time for our staff to process your order – from printing mailing labels, to making the boxes. We encourage people to order boxes in advance so they are stocked up prior to actually needing the supplies. We appreciate your patience.
If you need supplies right away or in the middle of the night, we recommend heading to a 24-hour pharmacy (i.e. CVS) to buy a small pack of supplies to hold you over until your box arrives!
Do you offer any special boxes for RA's?
We know many RA's like to have safer-sex supplies available for their residents in the event they ask for them. While we don't have any boxes specific for RA's, we encourage you promote this service to your residents, especially during this time of social distancing! You can also order a box under your name to have supplies for your residents as well.
I don't have sex. Can I still order gloveBOX?
Absolutely! We don't ask for any information about your sexual practices on our order form. Many people have told us that they don't have sex, but still order supplies to have them available for their friends.
Do you still "recycle" boxes?
We no longer have the option of returning your box to our office. You may receive a box that appears to have labels/tape already on it. This is because any unclaimed boxes are sent back to our office and un-packed. We then remove the labels from the boxes, and wait over 72 hours before reusing the box. We make sure to remove any and all identifying information on the labels before reusing these boxes.
Types of Boxes
What types of boxes do you offer?
We currently offer 4 different boxes:
Mystery Box
Larger Box
No-Glove Box
Non-Latex Box
What is in the "Mystery" Box?
The "Mystery Box" has an assortment of external condoms, as well as several other safer-sex supplies.
17 assorted external condoms - a mix of any of the following:

Trojan

- ENZ, Ultra Thin

Lifestyles

- Ultra Sensitive, Ultra Lubricated, Tuxedo, Colors, Rough Rider, Extra Strength, Ultra Thin

ONE

- Classic, 576 Sensations, Super Sensitive, Pleasure Dome, Pleasure Plus, Flavored, Glow, Vanish, Tattoo Touch

Kimono

- Thin, Microthin

Trustex

- Flavored, Ribbed & Studded

Atlas

- Colors

2 larger external condoms - a mix of any of the following:

Trojan Magnum, ONE Legend, Lifestyles KYNG, Atlas XL, Kimono Maxx Flare

1 snugger external condom
5 packets of lube

An assortment of water based, silicone based, and flavored

1 dental dam, non-latex glove, or internal condom (chosen at random)
What is in the "Larger" Box?
The "Larger Box" assortment of larger-size external condoms, as well as several other safer-sex supplies.
20 larger-size external condoms

An assortment of Trojan Magnums, ONE Legend, Lifestyles KYNG, Atlas XL, and Kimono Maxx Flare

5 packets of lube

An assortment of water based, silicone based, and flavored

1 dental dam, non-latex glove, or internal condom (chosen at random)
What is in the "No-Glove" Box?
The "No-Glove" Box has an assortment of safer-sex supplies (no external condoms included).
20 packets of lube

An assortment of water based, silicone based, and flavored

3 dental dams

An assortment of scents - may include grape, vanilla, mint, strawberry, or banana

3 non-latex gloves
1 internal condom (if available)
Bag of finger cots (if available)
What is in the "Non-Latex" Box?
The "Non-Latex" Box has an assortment of non-latex external condoms, as well as several other non-latex safer-sex supplies
20 non-latex external condoms
5 packets of lube

An assortment of water based, silicone based, and flavored

1 non-latex glove or internal condom (chosen based on availability)
Supplies
What is the difference between an "internal" and "external" condom?
An "external" condom is one that goes on a penis (or a similar-sized sex toy). They're what you probably think of when you hear the word "condom". They're usually made from latex, but are made from many other materials as well, including polyisoprene, polyurethane, nitrile, and lambskin.
An "internal" condom is one that goes inside the body, either inside the vagina, or even the anus. These are made from nitrile, and have a couple of different unique components, including a plastic inner and outer ring. These condoms were called "female" condoms in the past, but no longer (any gender can use internal, or external, condoms).
What is a dental dam?
A dental dam is a thin sheet of latex used for oral/anal or oral/vaginal/vulval sex. The dam goes on the anus or vulva, and the mouth goes directly on the other side. This prevents the sharing of any fluids, which can prevent the transmission of STIs. You can also make homemade dental dams from condoms, gloves, and even plastic wrap.
Do I really need all the lube you put in the boxes?
Lube provides many benefits for all parties involved. One is that lubrication can reduce the likelihood of condoms breaking. The other, is that it can increase pleasure, and enhance your sexual experience. Using added lubrication is nothing to be ashamed of. Regardless of how much natural lubrication one produces, it's always okay and encouraged to use more, if you feel like it will enhance your experience.
What is the glove for?
One of our most frequently asked questions – nitrile gloves are a great safer-sex tool that often go underappreciated. Gloves cover the hand during activities such as digital penetration ("fingering" or "fisting"), and can prevent the transmission of STIs that are spread through bodily fluids. While these activities are very low risk anyway, gloves can reduce that risk even further. They can also be helpful for folks that have long fingernails, and are worried about cutting or scraping the skin, or folks that want to switch between sexual activities without stopping to wash hands & would rather switch gloves instead. Gloves can also be turned into dental dams. We also have nitrile finger cots available that serve a similar purpose to gloves.
Availability of Supplies
I noticed that you only have one type of non-latex condoms. Why?
Unfortunately, Lifestyles Non-Latex condoms are the only non-latex condoms available to purchase in bulk. Other non-latex condoms, such as Trojan Supra Bareskin, Durex Avanti, Lifestyle Skyns, and Trojan Naturalamb, are often available in 3 or 12 packs for purchase online or at drugstores like CVS. Trojan Supra Bareskin are also available for purchase at our Student Health and Wellness pharmacy, for $8.84 for a 12 pack.
Why are you out of certain supplies (i.e. the internal/female condom, Trojan Ecstasy) often? I really liked ____ supply and you never have it in stock.
Some products are more in demand than others, and cost a lot more than others, too. In order to keep this service free and available to all students, we carry a wide range of products. When we're able to carry higher-end/more expensive products, we do, but we might run out quicker than other supplies.
We also collect data on every type of supply that's requested from our students. If a certain condom is being requested less than others, we won't order as many. Condoms have a shelf life, and we don't like to waste!
I don't feel comfortable with the generic condom brands you provide. Why don't you carry only Trojan or Lifestyles?
We like to have a wide range of condoms for folks to use and try out. We aim to carry a wide variety of brands, styles, textures, shapes, and sizes. Rest assured, however, that all condoms are held to the same standards, and one condom is not "better" than another at preventing STIs or pregnancy. Condoms are "Class II medical devices" as designated by the FDA, and undergo special testing, including water leak testing, airburst testing, tensile testing, and more. To meet FDA standards, all condoms sold in the U.S. must have a score of 99.6% to pass testing requirements – which means that 996 out of 1000 condoms must pass these tests to be put on the market. For more information, please click here.
However, condoms can still fail. Most times, condoms fail because of human error, rather than manufacturing errors. That being said, if and when you find a condom that works for you and your partner(s) that you all like – there's nothing wrong with sticking to it!
Do you offer condoms with spermicide?
We don't – and here's why: Spermicide contains an ingredient called nonoxynol-9. This is the active ingredient that paralyzes sperm, preventing it from joining with an egg. However, this ingredient has been shown to irritate the skin, specifically the vagina and anus. This can increase the risk of contracting HIV/AIDS, and can also contribute to painful irritation, allergic reactions, and UTIs. We cannot in good faith offer a product that may increase the risk of students contracting STIs, or developing other infections. For more information about spermicide, please click here.
I really want a Glow in the Dark condom. How can I get one?
Order a Mystery Box – and if you're lucky, one will show up!
Can you put Plan B in the box?
We can't put any medication in gloveBOX, even if it is over-the-counter. The FDA requires that a pharmacist be available to answer any questions about over-the-counter (and prescription) medication when it's provided – which isn't possible with a delivery program like gloveBOX. This is why you don't see Plan B being sold in places like gas stations, or convenient stores. Since condoms are "medical devices" and not "medication", they can be provided without a pharmacist available.
Can you put sex toys in the box?
Great question! While we're very pro-sex toy, they can get very expensive, and our service wouldn't be able to be free anymore if we provided them to everyone. For a quick Sex Toy 101, click here.
I need more lube than what you can provide. Where can I buy a bottle?
You can buy bottles of lubricant at most pharmacies and grocery stores, as well as adult stores (like VIP). You can also buy small bottles of Astroglide or KY Jelly at Student Health and Wellness's pharmacy for less than 10 dollars.
Please keep in mind that all lubricant is NOT made the same. While the lubricants that we provide in gloveBOX are safe for all types of sexual activity, and can be used with condoms – this is NOT true of all other lubricants. Oil-based lubricants should never be used with condoms (as they can break down latex), and some flavored lubrication contain sugar (which can encourage the growth of yeast infections, if used vaginally instead of orally). Always check the ingredients before you purchase!
Sizing
Does fit really matter? How do I know what size condom I need?
Yes, fit matters! Just because they CAN stretch out to fit on the penis, doesn't mean it feels good. If the condom doesn't fit comfortably, it's a sign that you're wearing the wrong size (people with penises should know their penis size, just like they know their shoe size!)
To measure your penis, all you'll need is some measuring tape. When fully erect (hard), position the measurer at the base of the penis. Press down, and measure to the end of the tip of the penis. This is the length of your penis. To measure the girth of your penis, gently wrap the measurer around the thickest part of the shaft (and note where the two ends meet). To measure the width of your penis, divide your girth measurement by 3.14. Note these measurements.
If you measure under 6.5' in length and/or under 2.05" in width, you'll most likely need either a standard size condom, or a snugger fit condom.
If you measure between 6.5' and 7.5" in length and/or between 2.05"-2.10" in width, there's a good chance that most standard sized condoms will fit you comfortably.
If you're between 7.5" and 8.0" and/or between 2.05"-2.10" in width, you'll most likely need either a standard size condom, or a larger size condom.
If you're over 8.0" in length and/or over 2.10" in width, there's a good chance that a larger size condom will fit you comfortably.
We offer a variety of different sized condoms. We currently offer a Larger-Sized box, containing an assortment of larger condoms. Our Mystery Box contains mostly standard sized condoms. However, starting in spring 2021, our Mystery Boxes will offer several larger size condoms and a snugger fit condom, for folks who would like to try a variety of sizes first-hand.
I've tried a lot of your condoms and I still haven't found a condom that fits me comfortably.
While we provide many different sized condoms, and typically have something for most people, we understand that some folks may have unique needs. ONE Condom has a great program where people can order custom-fit condoms, and have them shipped directly to their door.
I need a larger non-latex condom. What are my options?
While we don't have any larger non-latex condoms available in gloveBOX or for purchase at the pharmacy, Lifestyle Skyns does make a larger version that can be purchased online or at the drugstore. The internal condom, FC2, which is made of nitrile, can be used as a larger, non-latex, external option, if you take the ring out. It just needs to be held at the base (since there is no elastic).
How It Works:
Fill out the order form and choose from one of our four pre-made boxes.
You'll then receive your box right to your residence hall mailroom!
Your mailroom will send you an email notification letting you know you have package waiting for you in the mailroom.
Order up to three times a semester (that's over 60 free condoms and other safer-sex supplies!)
As a reminder, students living on campus should follow all temporary health and safety procedures set forth by Reslife.pdf, and understand guest and physical distancing policies before engaging in sexual activity.
Living off-campus? Pick up free condoms and other safer-sex supplies at the Rainbow Center. Standard size condoms, larger condoms, non-latex condoms, lube, and dental dams are available.

Safer-sex supplies are also available at your local health department, and Planned Parenthood. Supplies are available for sale at the Student Health and Wellness Pharmacy, CVS, Walgreens, and various adult stores.
Our office in Wilson Hall will not be open during the Spring 2021 semester for students to pick-up safer-sex supplies, nor will we be able to provide boxes to off-campus students at Off-Campus and Commuter Services.

If you have any questions about gloveBOX or safer-sex supply availability, please reach out to cassy@uconn.edu