UConn Student Health and Wellness (SHaW) has been named a LGBTQ Healthcare Equality Leader by the Human Rights Campaign Healthcare Equality Index.
The Healthcare Equality Index is the national LGBTQ benchmarking tool that evaluates healthcare facilities policies and practices related to the equity and inclusion of their LGBTQ patients, visitors, and employees.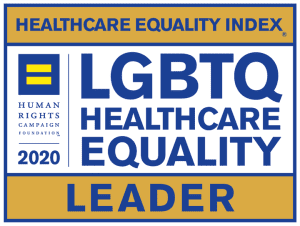 We support you… ALL OF YOU!
At SHaW we support the entire student; from not feeling well, to vaccines, to needing mental health support, or concerns about sexual health. We recognize that LGBTQIA+ students have many of the same healthcare needs as all UConn students and we also recognize that some of the needs may be unique and require a greater understanding of healthcare specific to people who identify as LGBTQIA+.
SHaW is committed to offering an environment that encourages students to seek care and services that are inclusive and supportive of all sexual orientations, gender identities, and expressions. SHaW professionals strive to provide personalized care to people of all genders and sexualities so that every student can access equitable and affirming care. Check out our web pages for descriptions of all services offered to Storrs students or to Regional students.
While we provide the same service to all students, below are some of the services that may be of interest or unique to students who identify as LGBTQIA+ students:
Chest exams
Pelvic exams including cancer screenings
Hormone prescriptions, such as:

Hormone therapy including gender affirming hormones
Regulating or limiting menstrual cycles
Minimize symptoms of menstrual cycles such as cramps, heavy bleeding, etc.
Acne management
Hormone replacement therapy

Fertility; family planning
PrEP (Pre-exposure Prophylaxis) is a daily pill that can protect you from HIV if taken every day. PrEP is an option for those HIV-negative and concerned about their exposure to HIV
Gender affirmation support from a therapist including letters for gender-related medical interventions as indicated in the course of therapy
Support with exploring identities, the coming out process, relationships, etc.
The UConn Student Health Insurance Plan (SHIP) includes hormone replacement therapy and gender affirming surgeries for trans students
Sexual health screenings including sexually transmitted infections (STIs) and conversations about safer sex strategies
Pharmacy Services
Laboratory tests
Our Staff
It is always important to establish an ongoing, trusting relationship with a provider so that you can receive the best care possible. Several members of our team - including medical care providers, therapists and counselors, educational staff, and operational support staff - identify as part of the LGBTQIA+ community or have specialized training in queer and trans healthcare.
We recommend spending some time browsing the bios of our primary care and mental health staff to find one that you think would best meet your needs.
If you are transgender or non-binary, you can check out our Gender Care Team to learn about their training and the services they provide.
Remember - you are always able to switch providers if you feel that your needs are not being met. Just let our appointment schedulers know if you wish to do so.
Updating Your Health Records: Name, Pronouns and Gender Identity
Please let us know your gender identity, pronouns, and preferred name. You can change these at any time. Ask us to make these updates during a visit to SHaW, or by calling our records staff at 860-486-2985 or emailing them at StudentHealth@uconn.edu.
Remember, this will only change your medical/counseling records at SHaW. Other university records must be changed through the Registrar's Biographical Information Update Request.
Your Privacy
Information about your gender identity, gender expression and sexual orientation shared during visits is treated like any other sensitive healthcare information. We are not permitted to disclose this information to anyone, including a parent or guardian, without the consent of the student. Learn more about our privacy practices.