Student Health and Wellness is excited to host weekly Pet Therapy events!
Join us every Wednesday from 4:30 - 6:30 p.m. in Wilson Hall room 126!
We've also partnered with the The Benton to host Pet Therapy every first Thursday of the month!
Join us in The Benton from 4:30 – 6:30 p.m.
Please note: September 1st will be held at 2 - 4 p.m.
Please note that Pet Therapy is provided on a volunteer basis. We cannot guarantee that dogs will be present the entire time.
 Pet Therapy will resume for the fall 2022 semester.
Andy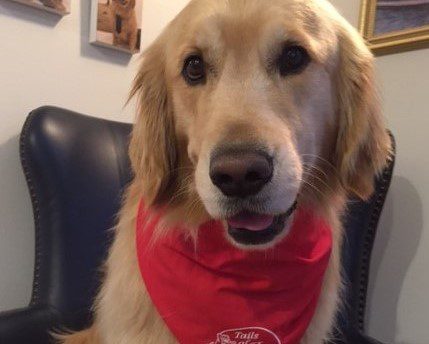 Name:  Andy
Handlers:  Peter and Sandy
Age:  8
Breed:  Golden Retriever
Fun Facts:  Andy loves his job as a therapy dog and in his spare time he loves to hike and swim.  Andy is helping to determine the causes and help find a cure for canine cancer through his participation as a hero in the Golden Retriever Lifetime Study.  He is also the Ambassador at the premier event, the New England Golden Jubilee and is a student at the Yale Canine Cognition Lab.
Bo
Name:  Bo
Handlers: Christine
Age:  14
Breed:  Labrador mix
Fun Facts:  Bo loves pet therapy - he considers it his chance to get a full body massage and lots of belly rubs! He has been visiting UConn since 2010. When Bo is not involved in therapy visits, he likes exploring the local woods, attempting to get an extra treat, and reminding his human mom that it's time to load the dishwasher. His second favorite job is pre-rinsing the dishes as they get loaded into the dishwasher.
Grant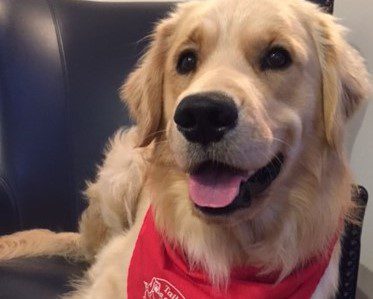 Name:  Grant
Handlers:  Peter and Sandy
Age:  5
Breed:  Golden Retriever
Fun Facts:  Grant loves his job as a therapy dog.  He is the scout for our daily hikes. He loves to hike, swim, ride waves, play ball, and dive!  He is currently very busy training his young sister, is the lead canine organizer of the New England Golden Jubilee, and is a student at the Yale Canine Cognition Lab.
Finley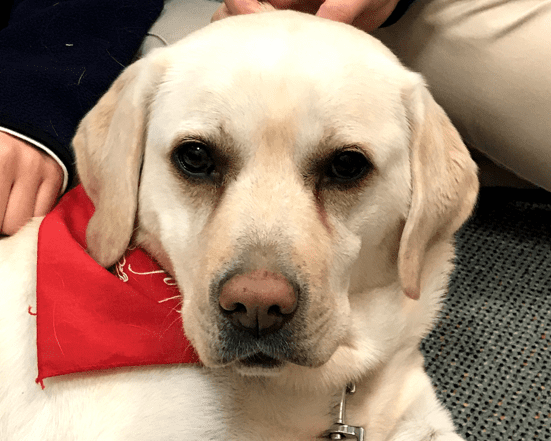 Name: Finley
Handler: Caroline
Age: 8
Breed: Labrador Retriever
Fun Facts: Finley's favorite activities are walking in the woods, riding in the boat and napping in the sunshine. Her favorite snack is pizza crust! While Finley loves everyone, she especially loves young children and the 20-something crowd.
Instagram Handle: @finley_seneca_therapylabradors
Mica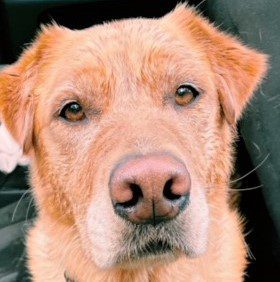 Name: Mica
Handler: Sue
Age: 5
Breed: Golden Retriever/Labrador/Shar Pei
Fun Facts: Mica loves everything she does including her time spent serving as a pet therapy dog. She hikes with her humans every day and nothing makes her happier than just hanging with those who want to show her a little attention. She is very good at dog tricks (sit, stay, roll over) so if you get a chance to meet her, do not be afraid to put her to the test. She is also very soft, so petting her head is a comfort for all involved. She is looking forward to getting back to meeting people after the past year of restrictions.
Follow on Instagram: @micaglenney
Oliver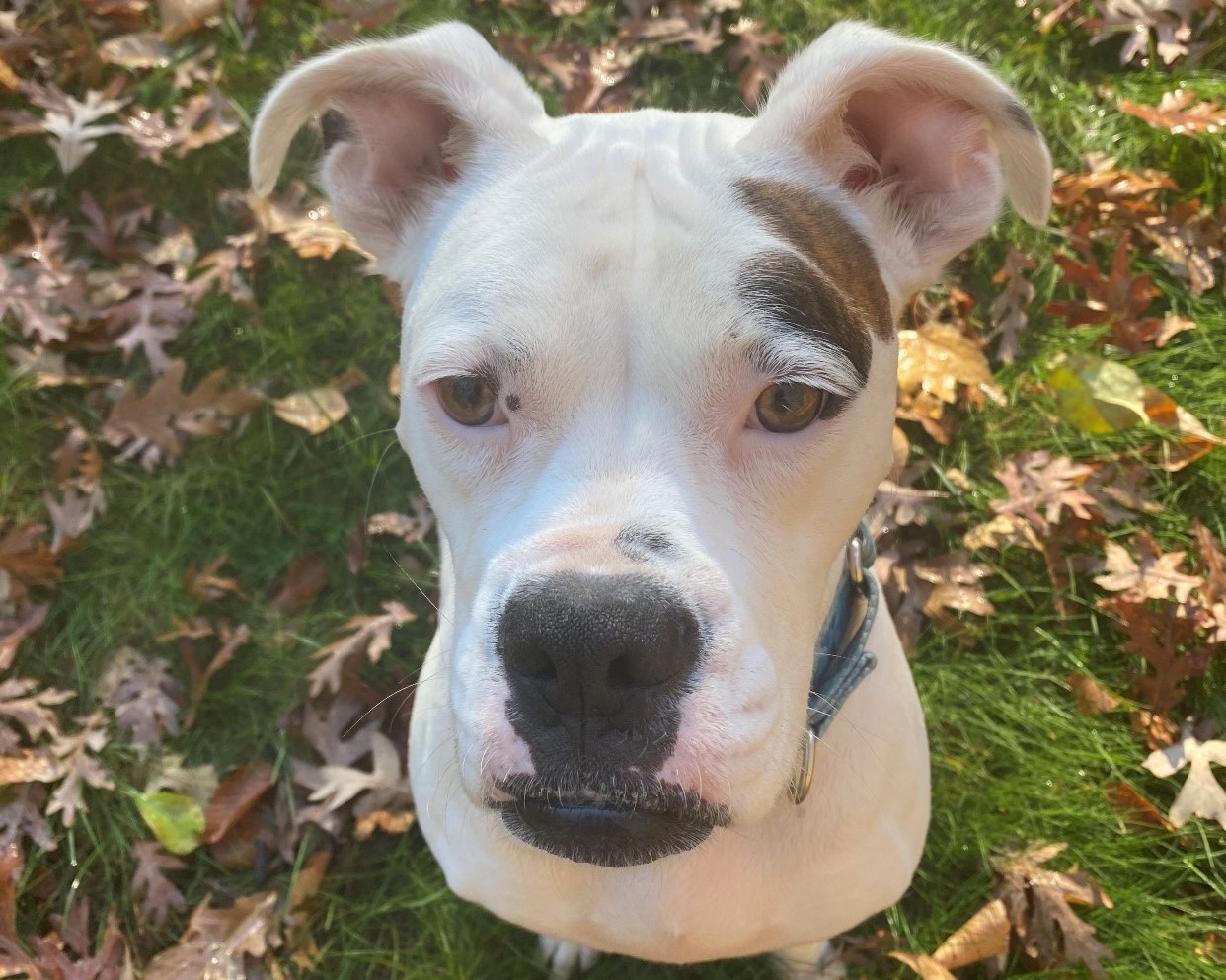 Name: Oliver
Handler: Jan
Age: 2
Breed: Boxer
Fun Facts: Oliver is an almost-two deaf boxer.  He was adopted from a rescue in Tennessee, and had some difficult health issues for the first six months he was at our home.  In spite of not feeling great, he still participated in running around the yard and farm with his two deaf sisters (Sophie and Lulu)  and annoying his elder siblings (Lexi and Jaxon) as much as possible—skills he has perfected now that his health is good.   His favorite food is everything—he loves to eat!  And while he enjoys playing with toys, he prefers chase games with the rest of the pack.  His special talent is snuggling!  In spite of being the largest of the family dogs—he can squeeze into any available lap space—even if already occupied by one or two of his siblings.
Seneca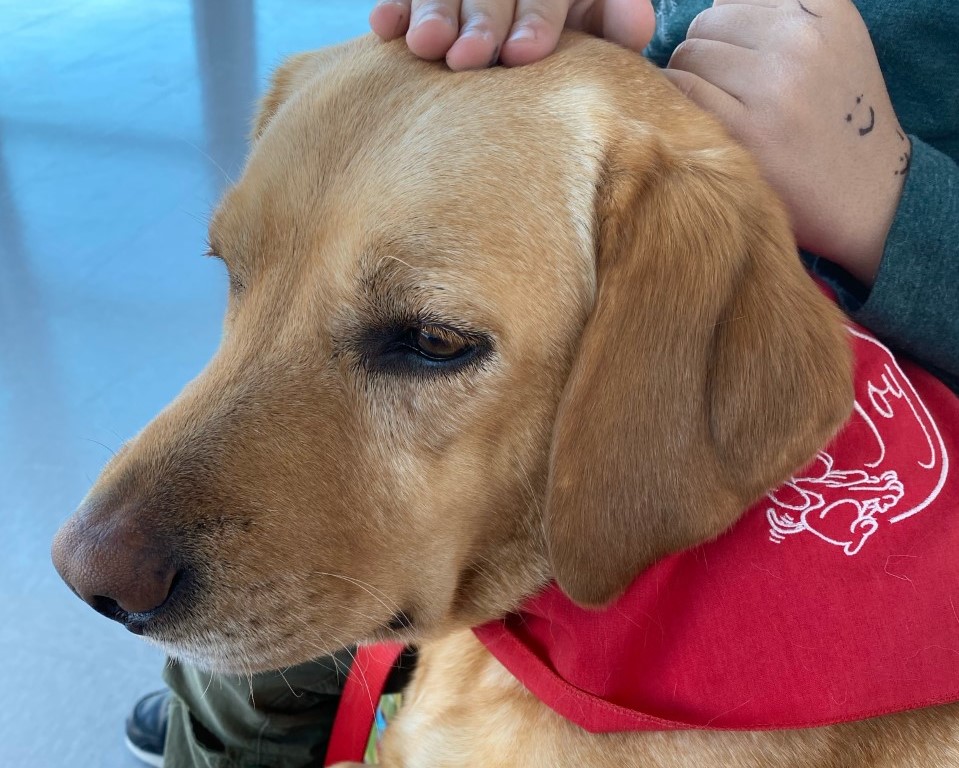 Name: Seneca
Handler: Caroline
Age: 5
Breed: Labrador Retriever
Fun Facts:  Seneca enjoys her pet therapy visits as well as hiking and swimming.  Her favorite snacks include bananas and cucumbers.  Seneca is not only a therapy dog, she also loves agility, canine conditioning and learning new tricks.  Seneca competes in agility with the American Kennel Club and holds titles at the masters level. 
Follow on Instagram: @finley_seneca_therapylabradors
Sophie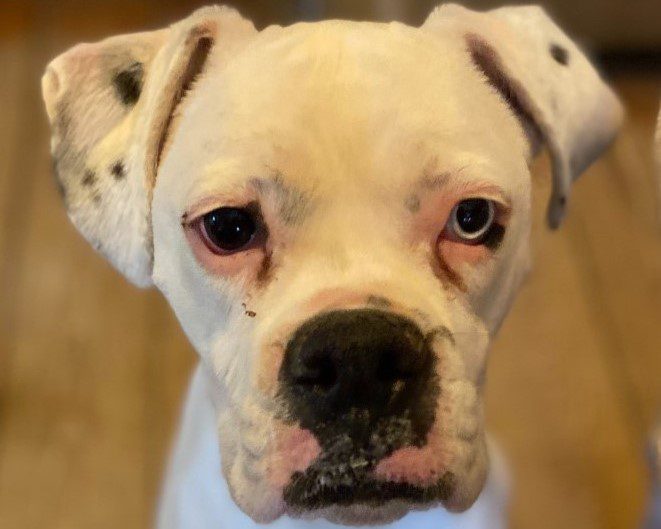 Name: Sophie 
Handler: Jan
Age: 3
Breed: Boxer
Fun Facts: Sophie is a three year old deaf boxer adopted from a rescue about two years ago.  Her high energy and sweetly stubborn and mischievous personality presented some challenges during the early months following her adoption, but once her formal training began, she found her mission.  In addition to her love for  therapy work and new adventures, Sophie enjoys swimming in the lake, working on the farm (she is the self-appointed boss of the horses and ponies), and racing around with her four other siblings (she is the fastest in any race!).  She loves mealtimes, beef liver treats, and her favorite -Frosty Paws doggie ice cream.  Sophie's  favorite toy is any toy a canine sibling happens to be playing with!
Summit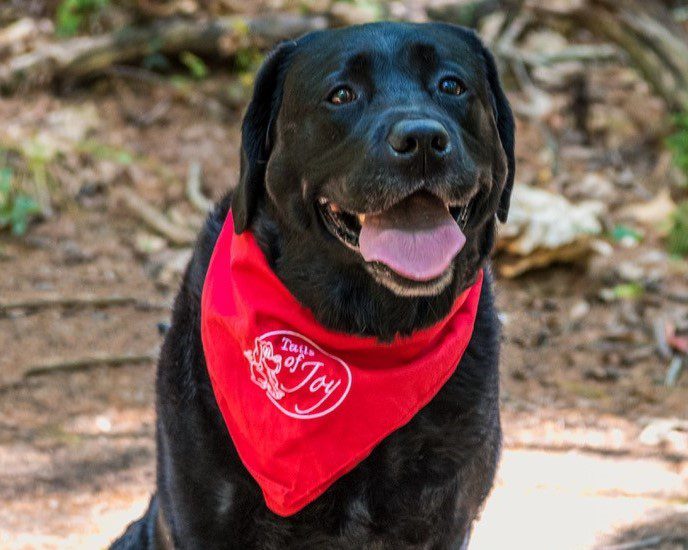 Name:  Summit
Handlers: Laura & Steve
Age: 7
Breed: English Labrador Retriever
Fun Facts: Summit likes rolling on her back and throwing her paws in the air. Aside from pet therapy, she loves swimming, hiking, napping on the couch, and hopes to compete in dock diving one day.
Follow on Instagram: @summit_the_therapy_dog
Tenley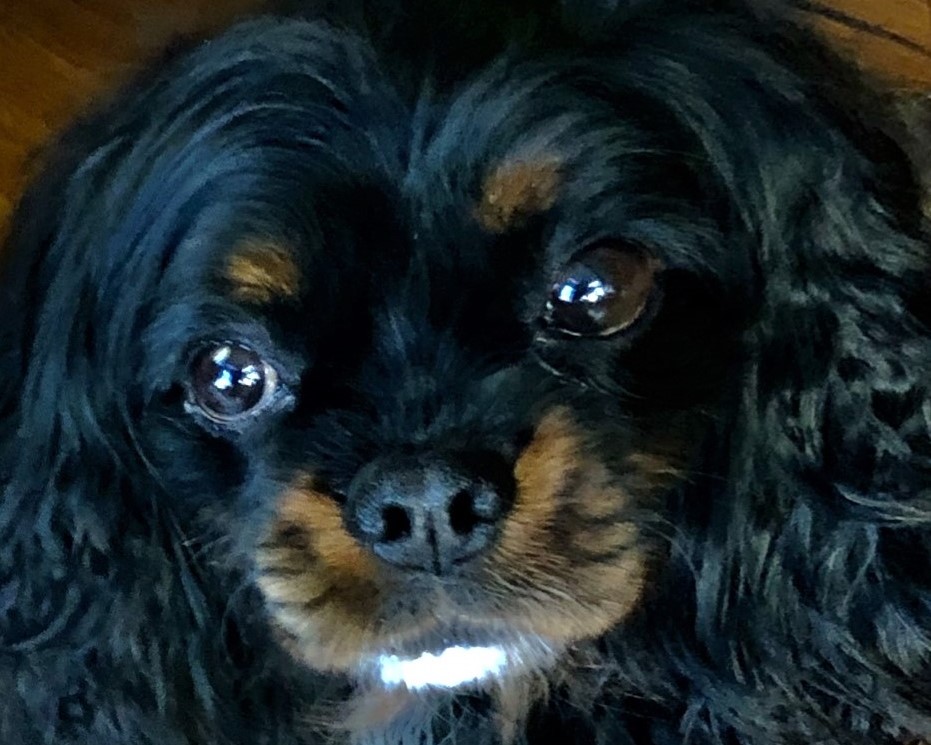 Name:  Tenley
Handler: Karen
Age: 5
Breed: Cavalier King Charles Spaniel
Fun Facts:  Tenley is very affectionate. She loves people of all ages and is always excited to do pet therapy visits. She has a soft, silky coat which is very relaxing to stroke. Her sweet spot is being scratched under her right front paw. Tenley has an AKC Novice Trick Dog Title. However, she prefers to work for food but does always try to please whoever is giving her attention even if they don't have treats. Her favorite toy is her ball, but she also enjoys chewing up any toy with stuffing or a squeaker.
Tori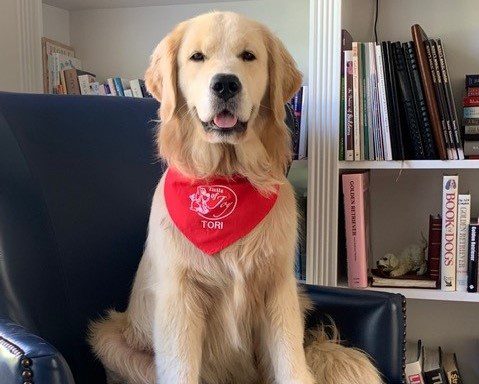 Name:  Tori
Handler: Peter and Sandy
Age: 1 1/2
Breed: Golden Retriever
Fun Facts: Tori is brand new to working as therapy dog and is excited about starting her career at UConn.  She loves everyone she meets and has worked hard to make sure that she is ready to wear her official working bandanna!  In her spare time, she loves to wrestle with her brother Andy and play tug with her brother Grant.  She also loves to hike and swim. Tori's full name,  "Birdwing's Victoria, Queen of ScotLand" is a tribute to her place in the Birdwing Land Litter and the 150 Year Celebration of the Golden Retriever Breed originally bred in Scotland. Tori is also one of the canine organizers of Celebration of the premier event, the New England Golden Jubilee and is a student at the Yale Canine Cognition Lab.
Wrigley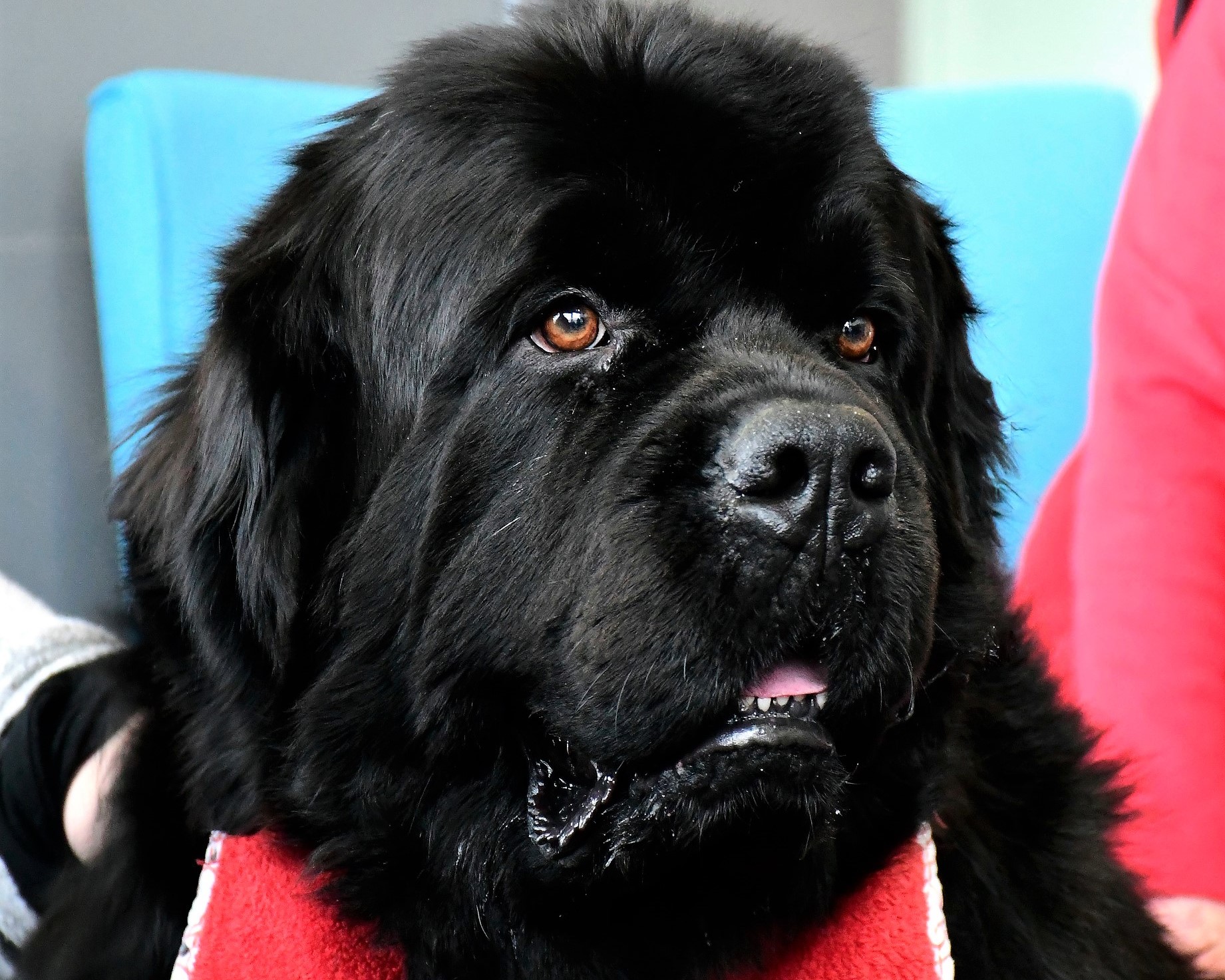 Name:  Wrigley
Handler: Laurel
Age: 6
Breed: Newfoundland
Fun Facts:  Wrigley loves pet therapy and spending time with everyone.  Favorite treats are scrambled eggs, tortellini, and Swiss cheese; favorite toy is a plush fish.  Wrigley loves doing "Newfy" things like swimming and pulling a cart.  He has obedience titles and is a Grand Champion who was shown at the 2021 Westminster dog show.
Follow on Instagram: @wrigleythenewf