The Holistic Huskies is a podcast created by UConn Students Serena Verma (CLAS '21), Roger Watrous (CAHNR '21) and Victoria DeTrolio (CAHNR '20) that brings light to real mental health stories of students and faculty at UConn. This project began as a way to showcase stories of those without a voice, fight stigma against conversation around mental health, and build genuine support and connection among students. By the end of the challenge, the team's hard work, determination, and honest storytelling won them first place in the competition. Since then, Serena and Roger have been appointed student interns at Student Health and Wellness and have recruited two new students, Zayin Roe and Alyssa Pelletier.
Since the beginning of the Spring of 2021, the Holistic Huskies have begun a new recruitment process, published an eighth episode, presented at a UConn Podcast Symposium, and is participating in Fresh Check Week. The team has aspirations of featuring more diverse stories from students and faculty this semester while expanding their reach on campus and beyond.
Check out the episodes and apply to be on our show below:
Check out our previous engagements: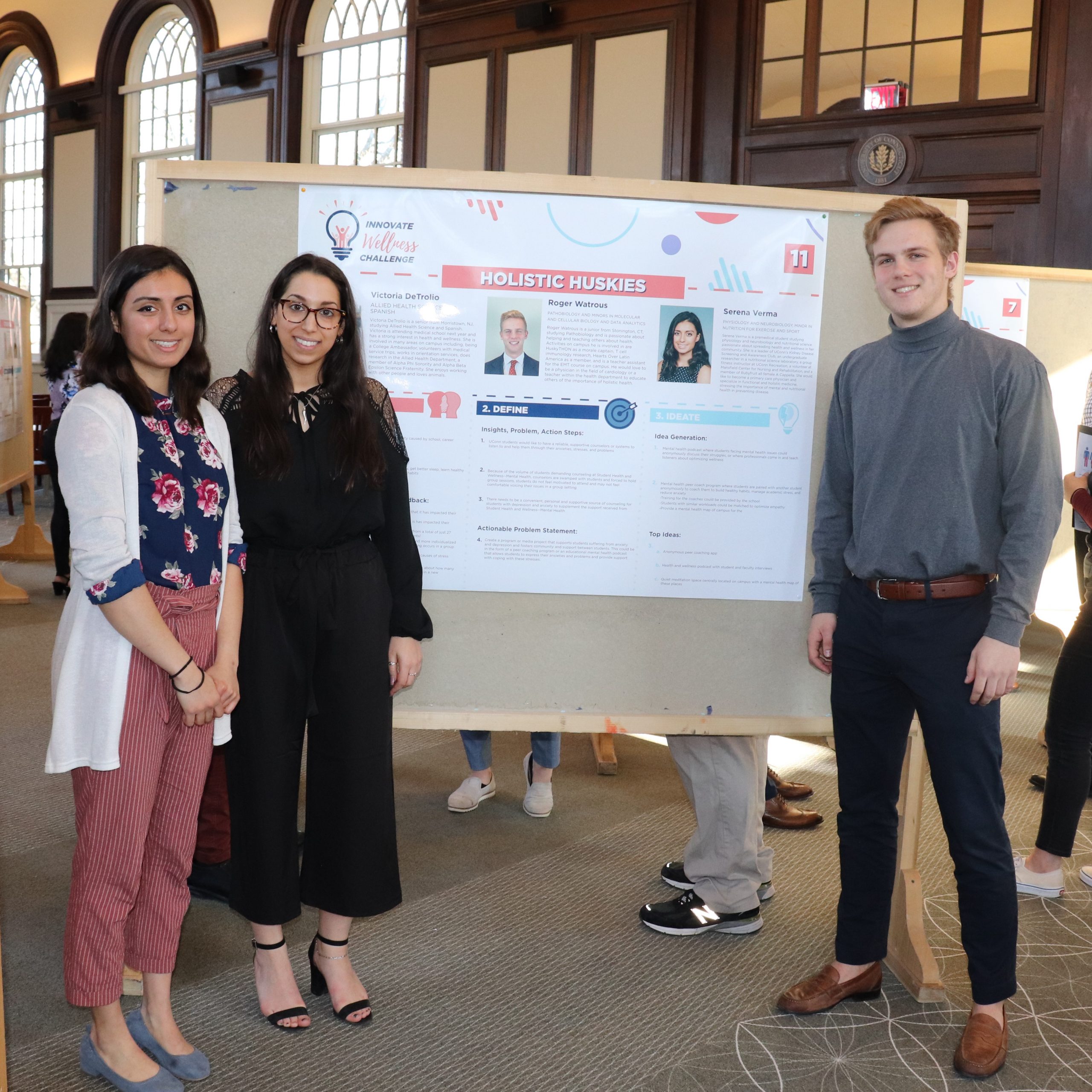 JOB DESCRIPTION:
Holistic Huskies Podcast Production Assistant - Promote Mental Health Awareness on an Award - Winning Project
Accepting applications 02/02 - 02/15
Become an intern at Student Health and Wellness as a member of the Holistic Huskies Podcast, a brand new platform that interviews students on their journeys through mental health. The project aims to foster a community, fight the stigma around mental health, and guide students towards resources. We are specifically looking for someone who is able to learn skills quickly, meet deadlines, and edit audio files effectively and efficiently. This is a great opportunity to build connections with other students and faculty who are passionate about health and wellness, learn about mental health barriers for college students, and enjoy a highly creative, meaningful internship with flexible hours!
Open to freshmen, sophomores, and juniors of any major and background.

Expected to commit up to 8 hours of independent or group work weekly 

Preferred qualifications:

Demonstrates proficiency in audio recording and editing

Sensitive and culturally competent towards people of all backgrounds

Demonstrates initiative and creativity

Excellent time management skills

Able to solve problems independently or in a group

Demonstrates positive attitude, adaptability to shifting goals, and a growth mindset

Excellent written and verbal communication skills

Responsibilities may include:

Edit audio files

Perform duties independently and meet deadlines

Communicate with students and faculty on campus to arrange interviews

Contribute novel ideas for interviews and promotion

Assist with and prepare questions for virtual interviews 

Attend weekly meetings with supervisors and fellow interns

Please apply ASAP, the deadline for applications is Monday, February 15th at 11:59 pm!
The application will close on February 15th at 11:59pm. Invitations for interviews will be sent out on a rolling basis, and will be held between 02/08 - 02/19. We recommend completion and submission of the application as soon as possible. Thank you for your consideration and interest in this internship opportunity!